Nationwide Automatic Identification System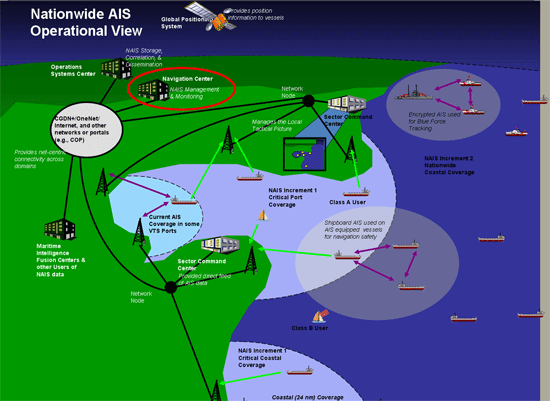 July 30, 2014 – U.S. Coast Guard
The Nationwide Automatic Identification System (NAIS) consists of approximately 200 VHF receiver sites located throughout the coastal continental United States, inland rivers, Alaska, Hawaii and Guam. NAIS is designed to collect AIS transmissions from local vessels. Currently, NAIS collects valuable maritime data in 58 critical ports throughout the United States for use by Coast Guard operators and port partners. The primary goal of NAIS is to increase Maritime Domain Awareness (MDA) through data dissemination via a network infrastructure, particularly focusing on improving maritime security, marine and navigational safety, search and rescue, and environmental protection services.

In response to the Maritime Transportation Security Act of 2002, the NAIS Project was initiated and officially chartered in December 2004. NAIS allows the USCG to collect safety and security data from AIS-equipped vessels in the nation's territorial waters and adjacent sea areas, and share that data with USCG operators and other government partners. AIS data collected improves the safety of vessels and ports through collision avoidance and the safety of the nation through detection, identification, and classification of vessels.

NAIS consists of an integrated system of AIS, data storage, processing, and networking infrastructure. In addition, NAIS integrates with other systems for purposes of sharing infrastructure, quicker implementation, and improved performance.
For more information, visit: