School Transportation Security Awareness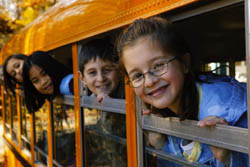 Transportation Security Administration (TSA)
The School Transportation Security Awareness, or STSA, program was developed by us in conjunction with the National Association of State Directors of Pupil Transportation Services, the National Association of Pupil Transportation and the National School Transportation Association to provide much needed security awareness information and training to the school transportation industry. STSA focuses on terrorist and criminal threats to school buses, bus passengers and destination facilities. It is designed to provide school bus drivers, administrators, and staff members with information that will enable them to effectively identify and report perceived security threats, as well as the skills to appropriately react and respond to a security incident should it occur.
STSA topics include:
Terrorism Defined
Who Are Terrorists?
Define And Identify A Security Threat
Define And Identify A Security Incident
Potential Weapons And The Probability Of Use
Joint Planning Between Organizations
Leadership Begins At The Top
The STSA program consists of a 24-minute DVD of a simulated school bus hijacking and Web-based, self-study modules offered in both English and Spanish. The program was designed so the information can be obtained in a classroom setting or by individual self-guided study on-line. Although the DVD contains valuable information in its own right, it is intended to augment the on-line training modules.
TSA participates in school bus hijacking drill in Texas
Every day in the U.S., about 26 million children hop on a bus headed for school, and keeping those students safe is vital. A school bus hijacking is a real threat in today's environment, and TSA teamed with the National Tactical Officers Association to hold a school bus hijacking drill as part of the 55th National School Transportation Association (NSTA) Meeting and Convention in Austin, Texas.
The city's SWAT team took part in the drill, which was designed to help school bus drivers better prepare to respond to security threats on buses and provide local police the opportunity to practice response procedures and tactics. In an effort to tackle the changing threats across our transportation system, TSA is partnering with groups like these to assess operations and responses in the field.
"TSA has worked with pupil transportation providers on the public and private sides for many years, conducting assessments and exercises, helping with security planning, providing training and sharing security-related intelligence and information to enhance awareness and preparedness of the bus transportation sector," said Surface Policy Division Highway and Motor Carrier Industry Engagement Manager David Cooper.
"School bus drivers and schools, in general, continue to face potential threats on a daily basis, including driver assaults," Cooper said. "Although TSA's primary focus is on counterterrorism, the benefits of having robust security plans and procedures when dealing with any type of security incident provides value to our public and private stakeholders. TSA continues to work with school districts throughout the country to enhance their preparedness and achieve their security goals of protecting America's children."
"The information on school bus safety and security TSA shared with our membership is crucial," said NSTA in a written statement. "From discussions with members, they left Austin ready to take what they learned back home to their drivers and staffs. NSTA is always grateful to have TSA speak at our annual meetings and conventions and recognizes the importance of our continued engagement with TSA."
Contact TSA for more information and/or current programs available in your area.