School Transportation Security Awareness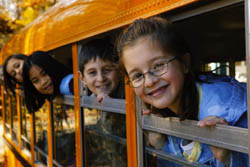 August 14, 2013 – Transportation Security Administration (TSA)
The School Transportation Security Awareness, or STSA, program was developed by us in conjunction with the National Association of State Directors of Pupil Transportation Services, the National Association of Pupil Transportation and the National School Transportation Association to provide much needed security awareness information and training to the school transportation industry. STSA focuses on terrorist and criminal threats to school buses, bus passengers and destination facilities. It is designed to provide school bus drivers, administrators, and staff members with information that will enable them to effectively identify and report perceived security threats, as well as the skills to appropriately react and respond to a security incident should it occur.
STSA topics include:
Terrorism Defined
Who Are Terrorists?
Define And Identify A Security Threat
Define And Identify A Security Incident
Potential Weapons And The Probability Of Use
Joint Planning Between Organizations
Leadership Begins At The Top
Available videos:
School Transportation Security Awareness Video in English
School Transportation Security Awareness Video with Spanish Subtitles
The STSA program consists of a 24-minute DVD of a simulated school bus hijacking and Web-based, self-study modules offered in both English and Spanish. The program was designed so the information can be obtained in a classroom setting or by individual self-guided study on-line. Although the DVD contains valuable information in its own right, it is intended to augment the on-line training modules.
You may order the DVD via e-mail by writing to highwaysecurity@dhs.gov. Please include your name, organization/school district, mailing address, phone number and the number of DVD's you request and the language you prefer (English or Spanish). You should receive your order in seven to ten days.
We offer STSA at no cost to any school division and school transportation entity that requests it. We appreciate the opportunity to assist you in enhancing school transportation security.
For more information, visit https://www.tsa.gov/stakeholders/school-transportation-security-awareness