Transportation Worker Identification Credential (TWIC)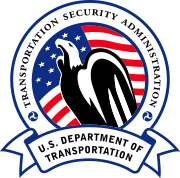 June 11, 2015 – Transportation Security Administration
About TSA
TSA was created to strengthen the security of the nation's transportation systems and ensure the freedom of movement for people and commerce. TSA uses a risk-based strategy and works closely with transportation, law enforcement and intelligence communities to set the standard for excellence in transportation security.
Mission
Protect the Nation's transportation systems to ensure freedom of movement for people and commerce.
Vision
Provide the most effective transportation security in the most efficient way as a high performing counterterrorism organization.
Core Values
Integrity. Innovation. Team spirit.
_________________________________________________________________________
Security Programs
A vital security measure that will ensure individuals who pose a threat do not gain unescorted access to secure areas of the nation's maritime transportation system.
Latest News!
1) UPDATED! TWIC Processing Delays: The previously announced delay in processing some TWIC applications has been resolved. Most applicants will receive a TWIC within a month of enrolling, and often in about two weeks. However, despite progress in reducing processing delays for the small number of applicants whose criminal or immigration records indicate that they may not be eligible for a TWIC, those applicants may still experience a two-and-a-half month wait before receiving a TWIC or notification from TSA.
To ensure all eligible applicants receive a new or renewal TWIC before it is needed for work we continue to strongly encourage all applicants to apply for their TWIC at least 10 to 12 weeks prior to when the card will be required to avoid inconvenience or interruption in access to maritime facilities.
2) NEW! Reporting Non-Receipt of Mailed TWICs: TWIC applicants who request to receive their TWIC card by mail will receive a phone or email notification that the card has been mailed. After notification that the card has been mailed, applicants have 60 days to report non-receipt of the card by contacting the Universal Enrollment Services (UES) Call Center at: (855) 347-8371. Failure to report non-receipt of the card within 60 days will result in a $60 fee to replace the lost card.
3) NEW ENROLLMENT REQUIREMENTS FOR U.S.-BORN TWIC APPLICANTS:
Starting on July 1, 2015 Transportation Worker Identification Credential (TWIC®) applicants who were born in the United States, and who claim U.S. citizenship, must provide documents to prove their citizenship. Applicants need to bring one document from List A, or two documents from List B as shown below.
Until July 1, 2015 TWIC applicants who were born in the U.S. may continue to certify that they are U.S. citizens by checking the box on the electronically signed TWIC application and bring documents as listed on the UES website here.
TSA is making this change to align TWIC proof-of-citizenship requirements with those of other TSA programs such as the Hazardous Material Endorsement and TSA Pre✓ programs. Requiring proof of citizenship at the time of enrollment will ensure that all TWIC applicants meet eligibility requirements for the credential.
Acceptable Documentation Providing Proof of U.S. Citizenship
List A: Bring one of the following:
• Unexpired U.S. Passport (book or card) – demonstrates U.S. Citizenship
• Unexpired U.S. Enhanced Driver's License (EDL) – demonstrates U.S. Citizenship if indicated on card
• Unexpired Enhanced Tribal Card (ETC) – demonstrates U.S. Citizenship
• Unexpired Free and Secure Trade (FAST) Card – demonstrates U.S. Citizenship if indicated on the card
• Unexpired NEXUS Card – demonstrates U.S. Citizenship if indicated on the card
• Unexpired Secure Electronic Network for Travelers Rapid Inspection (SENTRI) Card -- demonstrates U.S. Citizenship if indicated on the card
• Unexpired Global Entry Card -- demonstrates U.S. Citizenship if indicated on the card
List B: Or, bring one of the following plus a government-issued photo ID:
• Original or certified copy of birth certificate issued by a State, county, municipal authority, or outlying possession of the U.S. bearing an official seal
• U.S. Certificate of Citizenship (N-560 or 561)
• U.S. Certificate of Naturalization (N-550 or 570)
• U.S. Citizen Identification Card (I-179 or I-197)
• Consular Report of Birth Abroad (FS-240)
• Certification of Report of Birth (DS-1350)
• Certification of Birth Abroad (FS-545)
• Expired U.S. passport within 12 months of expiration*
*An expired U.S. passport may not be presented by itself. It must be presented with at least one other document (and a name change document if needed).
4) NEW! Cards with Missing Fingerprint Files: Recently a number of TWIC cards were issued without the digital fingerprint file necessary to biometrically confirm identity using a TWIC reader. This problem only affects a limited number of cards issued after May 4, 2014. To determine if your card is affected please compare the Agency Serial Number (ASN) printed on the back of the TWIC against the list of affected cards here. If your card is on the list please contact the UES Call Center at (855) 347-8371 to obtain a free replacement. With the exception of the missing fingerprint file, the affected cards are valid and function with readers.
More information, and a guide to finding a card's ASN, is available here.
5) UPDATED! Truncated Last Name on TWIC Card: TWIC cards issued since May 2014 truncated the number of characters printed on cards for individuals with long last names. Version 2.3 TWIC® cards printed prior to 12/12/2014 printed only the first 14 characters of a person's last name. The number of characters includes spaces, hyphens, and apostrophes in the person's last name. The printed last name is always followed by a comma. If a person's last name exceeds 14 characters, all characters after the 14th are not printed. A comma follows immediately after the 14th character.
Version 2.3 TWIC cards printed on or later than 12/12/2014 are printed with a maximum of last name 19 characters, followed by a comma.
Despite the limited space available on the card, TSA is exploring ways to print the full last name on the card regardless of the number of characters. Security personnel should be aware that some TWIC holders will have authentic cards although their full last name, as printed on the card, may be truncated.
6) Reminder-Appointments are Not Necessary: All TWIC services are available at UES enrollment centers to walk-ins as well as those with appointments. Those with appointments receive priority service at their appointment time, but walk-ins are served in the order they arrive. The appointment schedules at each enrollment center allow for time to serve walk-ins. If you need to apply for a TWIC, or pick up a card, and can't find a convenient appointment go to the enrollment center as a walk-in. The average wait time at enrollment centers is 15 minutes or less, although at peak times longer waits may be experienced.
7) New Card Topography Features: UES enrollment centers are receiving and issuing cards produced by the Government Printing Office (GPO). The general appearance and security features of the new cards are similar to previous versions, but contain several changes:
Card Front:
• Expiration date format is now YEAR MONTH DAY (YYYYMMMDD) example: 2016APR22
• Card front: A period "." follows the middle initial, example: W.
Card Back:
• Version moved to above the magnetic stripe ("TWIC v2.3 MM.YY").
• The smaller 1D bar code above the magnetic stripe has been replaced by a card stock identifier sequence.
• The label "ID One PIV (1107253)" has been added above the magnetic stripe.
• The printing below the larger 1D barcode now includes the System Code (7099), example: 70991234
8) New Card Technical Features: As a result of the transition to the new system, the TWIC Certificate Authority (CA) changed. TWIC readers programed to check the TWIC Certificate Revocation List (CRL) must be redirected to the new CA. The technical advisory for this change was also previously posted to the TWIC website.
9) Cards with Missing Fingerprint Files: Recently a number of TWIC cards were produced without fingerprint template files. These cards have expiration dates from 2019MAY22 through 2019MAY30. Not all cards within this expiration date range are affected. The affected cards are otherwise functional with readers and are valid. No cost replacement cards are available to individuals who received these cards.
Transportation Workers
If you need further information, please contact the UES Call Center at 1-855-DHS-UES1 (1-855-347-8371) Monday through Friday from 8 AM - 10 PM Eastern.
Employers, Unions, and Facility Owner/Operators
If you have questions regarding TWIC enforcement and policy guidance, please contact the USCG Help Desk at 1-877-MTSA-AID (1-877-687-2243; option #1) or at uscg-twic-helpdesk@uscg.mil. Note: Owners/operators/FSOs/VSOs/CSOs are encouraged to seek guidance directly from their local Captain of the Port TWIC action officer.
Program Updates
Click here for the latest TWIC Dashboard Report